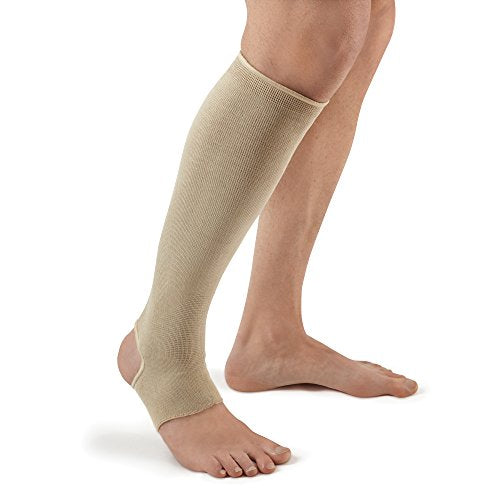 Futuro Therapeutic Open Toe-Open Heel Knee High 20-30 mmHg, each - Size- Large Beige -1 ea
Quick Overview
Futuro Therapeutic Open Toe-Open Heel Knee High 20-30 mmHg, each - Size- Large Beige -1 ea Calf Measurement: 12-1/2 to 13-1/2 in. Firm 20-30 mm/Hg compression. For men & women....

Note: Check shipping rates on checkout page
Futuro Therapeutic Open Toe-Open Heel Knee High 20-30 mmHg, each - Size- Large Beige -1 ea
Calf Measurement: 12-1/2 to 13-1/2 in. Firm 20-30 mm/Hg compression. For men & women. Stay on the move with restoring support!Therapeutic support helps relieve symptoms of varicose veins, chronic leg conditions & leg swelling.For Relieving Symptoms of: chronic aching legs, moderate leg pain, post-surgery, moderate-to-severe varicose veins and swelling.Futuro Therapeutic Open Toe/Heel Knee Length stocking provides a wonderful, stimulating energy to empower you more every day! Some chronic leg symptoms can be challenging, but this therapeutic stocking can help you go above and beyond with a younger, healthier feeling! Our materials are soft, smooth, and soothing enough for everyday activities.Our comfort band will help prevent slipping, and a reinforced heel seam adds durability. Therapeutic Benefits: Graduated Compression - improves circulation with maximum compression at the ankle that gradually decreases up the leg to provide a restoring feeling; Massage-in-Motion - iassages your tired, achy leg as you move; Ideal for - being on your feet or sitting in one place all day, traveling, or active office work.
Can also be used post-surgery; Vein Therapy - helps relieve symptoms of moderate-to-severe varicose veins and swelling; Help for Chronic Symptoms - edema, ulcerations, and swelling. Developed in collaboration with a panel of physicians, surgeons, and medical specialists. This package contains 1 stocking.Futuro Promise: At Futuro, we design our products to promote freedom of movement and quality of life. We believe if you feel better, you'll live more. We have woven our promise into every inch of every product we make. Our products are designed to relieve medical symptoms and guaranteed to be of the highest quality. Made in the USA.
Cotton, Polyester, Natural Rubber Latex.
Direction :

Place thumbs inside hosiery and gather material.Slip foot inside hosiery and gradually pull up and over heel.Adjust heel for comfortable fit. Gently slide hosiery up leg and smooth out wrinkles.
Warning :
This product contains natural rubber latex which may cause allergic reactions.
Image may vary from actual product due to Continuous manufacturer Product updates. Information we provide your reference only.