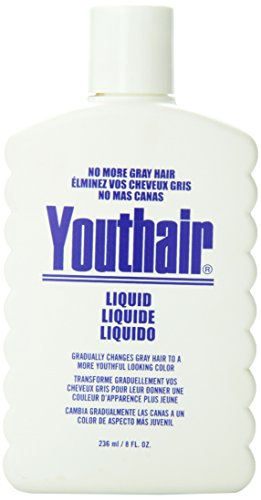 Youthair Hair Color and Conditioner For Men, Liquid - 8 fl oz
Quick Overview
Youthair Hair Color and Conditioner For Men, Liquid - 8 fl oz Restore natural color gradually. No dyes. No mess. No gray! Youthair is a color restoring, conditioning treatment for...

Note: Check shipping rates on checkout page
Youthair Hair Color and Conditioner For Men, Liquid - 8 fl oz
Restore natural color gradually. No dyes. No mess. No gray! Youthair is a color restoring, conditioning treatment for hair that is used by thousands of men to make them look and feel younger. Youthair helps to replace the color that hair loses as it begins to gray. Its unique formula provides long lasting, natural results. Youthair allows you to choose how much or how little gray you want. Within 3 weeks of daily use, hair color will gradually be restored to its natural shade. No more complicated, messy dyes. No shade selection to match. Easy one-step application.
Water, Glycerin, Sulfur, Lead Acetate, Fragrance, Quaternium 15, Lactic Acid.
Direction :
Apply daily to hair using comb to distribute liquid throughout hair. Once desired color has been achieved, use twice weekly to maintain color. To retain gray in selected areas, avoid application to those areas. Youthair will give you brilliant, natural looking hair color that will not stain, rub off or wash out. For best results, do not wash hair after use for at least 3 hours. Do not dilute with other hair styling products.
Warning :
Contains lead acetate. For external use only. Keep this and other chemicals out of reach of children. Do not use to color mustache, beard, eyelashes or hair on any part of the body other than the scalp. Do not get in eyes, or use on cut or abraded areas. Follow instructions carefully and wash hand s thoroughly after each application. This product contains a chemical known to the State of California to cause cancer, birth defects or other reproductive harm.
Image may vary from actual product due to Continuous manufacturer Product updates. Information we provide is for your reference only