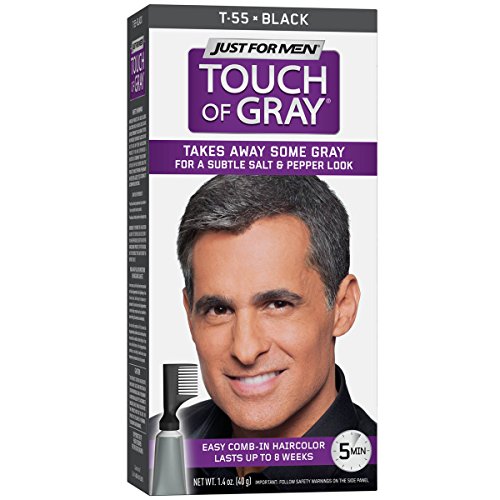 Just For Men Touch Of Gray Hair, Black - Gray T - 55 - 1 ea
Quick Overview
Just For Men Touch Of Gray Hair, Black - Gray T - 55 - 1 ea   Gets rid of some gray, not all. No mix. Comb in. Going -...

Note: Check shipping rates on checkout page
Just For Men Touch Of Gray Hair, Black - Gray T - 55 - 1 ea
Gets rid of some gray, not all. No mix. Comb in. Going - keep most of your gray; Going - or keep a little less gray; Almost Gone - or just a hint. Innovative Formula: reduces gray without getting rid of it completely. No Mixing, No-Mess Applicator: The first men's no-mix, no-mess system. Easy as combing your hair. 5 minutes, zero mess. Works Gradually: With each application, Touch Of Gray reduces the amount of gray.
The change is subtle. And even with repeated applications it won't get rid of all the gray. Gentle and Long Lasting: No ammonia, no peroxide. Yet the natural look lasts up to 6 long weeks. The Perfect Look: A little gray to show your experience, but not so much that it hides your energy. Touch Of Gray comes in a variety of shades. Can't decide between two shades? Try the lighter one first. You can always go darker later. Made in USA.
Water, Aminomethyl Propanol, Coco Glucoside, Isopropyl Alcohol, Isopropyl Acetate, Carbomer, N,N-Bis(2-Hydroxyethyl)-p-Phenylenediamine Sulfate, 1,2,4-Trihydroxybenzene, Fragrance, Trisodium EDTA, p-Phenylenediamine, Erythorbic Acid, Sulfuric Acid, p-Aminophenol, Sodium Sulfite, Cinnamidopropyltrimonium Chloride.
Directions:
Read and follow directions on enclosed leaflet.
Warnings:
Do not use this product if: you have already experienced any reaction to haircolor products; you have an irritated, sensitive or damaged scalp. Haircolor products can cause allergic reactions which in rare cases can be severe. If you have a tattoo, the risks of an allergic reaction may be increased. Before using this product, you must perform a preliminary 48-hour skin allergy patch test according to accompanying directions.
In rare cases, use of hair dye has been associated with skin depigmentation (skin lightening or loss of skin color), which may be temporary or permanent. If you notice any skin depigmentation or other allergic reaction such as discomfort or severe itching, discontinue use immediately. Do not use this product at all if you have skin depigmentation problems such as white patches on your skin (a condition called vitiligo) or if you have a family history of skin depigmentation problems, as an allergic reaction may cause temporary or permanent loss of skin pigment.
This product contains ingredients which may cause skin irritation on certain individuals and a preliminary 48-hour skin allergy patch test according to accompanying directions should be done first. This product must not be used for dyeing the eyelashes or eyebrows - to do so may cause blindness. Keep product out of reach of children. Not for use on children.
Image may vary from actual product due to Continuous manufacturer Product updates. Information we provide is for your reference only