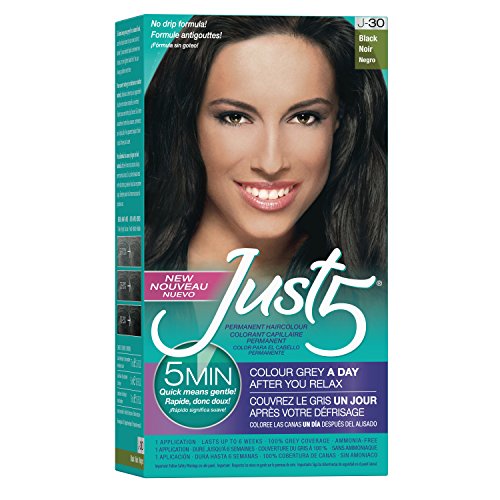 JUST 5 5 Minute Colorant,Natural Black - 1 ea
Quick Overview
JUST 5 5 Minute Colorant,Natural Black - 1 ea Brighter shine superior gray coverage in just 5 minutes. Lasts up to 6 weeks. Quick means gentle with Just 5. Color...

Note: Check shipping rates on checkout page
JUST 5 5 Minute Colorant,Natural Black - 1 ea
Brighter shine superior gray coverage in just 5 minutes. Lasts up to 6 weeks. Quick means gentle with Just 5. Color so fast, so gentle, so long-lasting and shine so bright. There's no other permanent haircolor like it. Just 5 works in 5 gentle minutes. It doesn't expose your hair to chemicals for 30 minutes. And there's no harsh ammonia.It also protects and revitalizes your hair with built-in conditioners. And 5 super rich after-conditioners, for brighter shine...and an extra boost of body and manageability. Superior gray coverage. Your natural hair color is actually a blend of many close shades. That's why Just 5 blends shades of your own color into the gray so invisibly, even you can't tell which hair used to be gray. Lasts till the gray grows back. Just 5 won't wash out, won't fade out or look dull no matter how often you shampoo.It lasts up to 6 weeks, until your gray grows back. To naturally blend away your gray, use the shade closest to your own, but not darker. Just 5 blends shades of your natural color into your gray -subtly, gently, invisibly. To turn gray into highlights, or brighten dull hair, choose a shade lighter than yours. If your desired color is between two shades, try the lighter shade first. You can always go darker next time. The chart below, with varying amounts of gray, will help you predict your results.
Color Base: Water, Lauramide Dea, Sodium Lauryl Sulfate, Sodium Laureth Sulfate, Ethanolamine, Carbomer, Fragrance, Sodium Sulfite, Erythorbic Acid, Disodium EDTA, Laurdimonium Hydroxypropyl, Hydrolyzed Wheat Protein, P-Phenylenediamine, M-aminophenol, P-Aminophenol, Chlororesorcinol, N-phenyl-P-Phenylenediamine. Natural Color Developer: Water, Hydrogen Peroxide. Custom Conditioner: Water, Acetamide MEA, Cetearyl Alcohol, Stearalkonium Chloride, Propylene Glycol, Cetyl Alcohol, Ceteareth, Trimethylsilylamodimethicone, Glycerin, Diazolidinyl Urea, Citric Acid, Fragrance, Isolaureth, Methylparaben, Propylparaben, Octoxynol, FD&C Yellow No 5.
Direction :
Follow the usage advisory.Read and follow the insert.Store between 50 degrees and 80 degrees F.
Warning :

This product contains ingredients which may cause skin irritation on certain individuals and a preliminary test according to accompanying directions should be done first. This product must not be used for dyeing the eyelashes or eyebrows-to do so may cause blindness.
Image may vary from actual product due to Continuous manufacturer Product updates. Information we provide is for your reference only