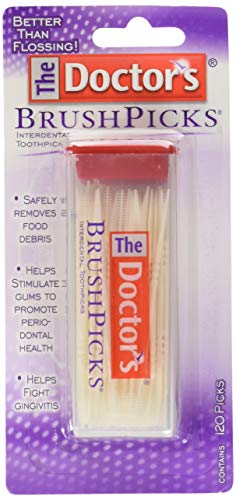 The Doctors Brush Picks To Remove Plaque And Food Particles - 120 ea
Quick Overview
The Doctors Brush Picks To Remove Plaque And Food Particles - 120 ea The Doctors brush picks to remove plaque and food particles.It removes plaque and food particles easily and...

Note: Check shipping rates on checkout page
The Doctors Brush Picks To Remove Plaque And Food Particles - 120 ea
The Doctors brush picks to remove plaque and food particles.It removes plaque and food particles easily and safely. Great for bridgework and sensitive teeth, massages and stimulates gums. Features:Rounded safety tip protects gums. Tiny bristles brush away food particles. Flexible stem maneuvers easily around molars. Hygienic polyethylene plastic.  Ribbed edge removes plaque between teeth.Triangular shaped tip fits comfortably between gaps in teeth.Daily use of The Doctors Brushpicks will produce a noticeable improvement in your oral health in just two weeks.
Direction :
Insert brush end and rotate or slide back and forth.Gently slide pick back and forth up and down.Use flexible brush tip to clean molars.

Warning :
Please read all label information carefully on delivery and prior to use.
Image may vary from actual product due to Continuous manufacturer Product updates.Information we provide your reference only.